Is the 2020 GMC Sierra 1500 the Right Truck for You?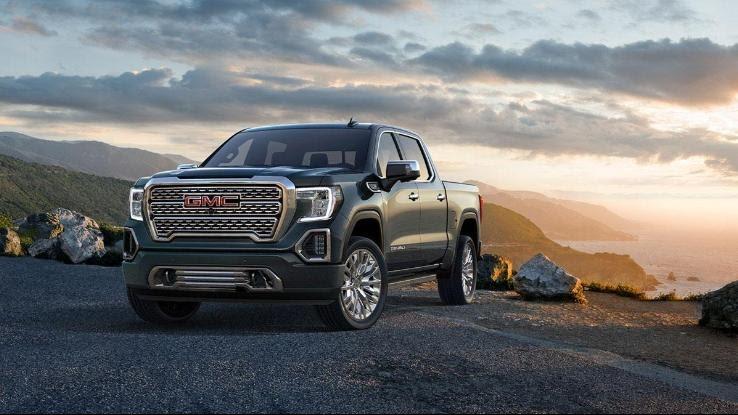 If you're in the market for a new pickup truck, you may be considering the 2020 GMC Sierra 1500. As a fairly well-known model from an established auto manufacturer, you may already be familiar with previous generations of the car and curious how the 2020 Sierra compares to its predecessors, not to mention similar pickups available from other companies.
The 2020 Sierra 1500 comes with some noteworthy improvements over the previous year, and it has its share of strengths. As with any car, however, it also has its weaknesses. Before you decide whether it's right for you, read on to learn a bit about both to make an informed choice.
Plenty of Options to Suit Your Style
The 2020 Sierra 1500 comes with three different frame options: regular, double and crew. The regular cab is the smallest and seats only three passengers, but the truck itself comes with an impressive 89.1 cubic feet of cargo space and the ability to haul around 2,060 to 2,240 pounds and a max trailering capacity of 7,700 to 10,000 pounds. By contrast, the double and crew cabs offer less cargo capacity but more cabin space. Depending on the options you choose, however, both frames can potentially haul even more than the regular cab.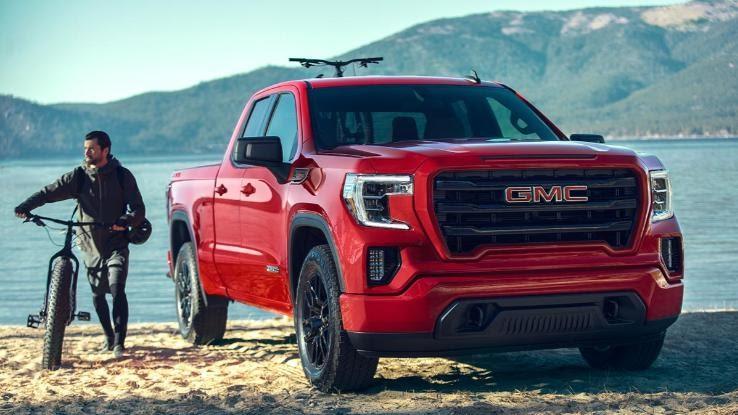 You'll also have your choice between a 2.7L Turbo Engine with 8-speed automatic transmission and a 5.3L V8 with either 10- or 8-speed automatic transmission (depending on which model you choose). If you want to amp things up a notch, there's also a 6.2L V8 or 3.0L Turbo Diesel available, both of which come with automatic 10-speed transmissions.
Select models also offer additional engine features, such as a traction select system and available dynamic fuel management. The latter provides access to 17 different engine configurations to offer the right balance of engine power and efficiency when you need it most.
Quiet and Comfortable Interior
The 2020 GMC Sierra 1500 doesn't buy into the idea that pickup trucks can't be classy. Not only is the cab outfitted with slick leather seats, but it's also designed with the comfort of both front- and backseat passengers in mind. The double and crew cabs also feature large rear door openings for easy access, available center cupholders and outboard heated seats, rear vents andplenty of leg- and headroom for backseat passengers.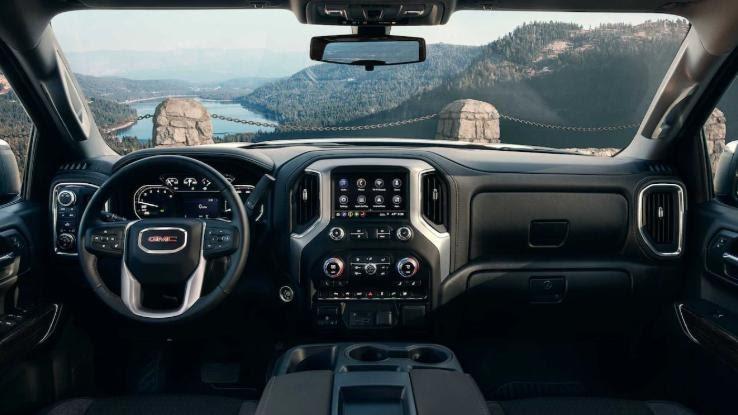 One thing that makes the 2020 GMC Sierra 1500 stand out from its competitors is how quietly it drives for a full-sized truck. The dash, carpet and doors are outfitted with sound-absorbing technology designed to keep the cab quiet and comfortable, even at highway speeds. It also has an upgraded, and intuitive center console with a multicolor touch-screen. In addition to advanced navigation and in-vehicle apps, some models even offer a trailering app that keeps you up to date on your trailer's tire pressure, temperature and more.
Six Function MultiPro Tailgate
The 2020 GMC Sierra 1500's Six-Function MultiPro Tailgate may seem like an unusual feature to tout for people who are new to pickups, but for those in the know, it can make all the difference. It can be used as a bed extender to provide additional storage capacity, fold into a step for easier unloading and more, making it a practical asset in a work truck.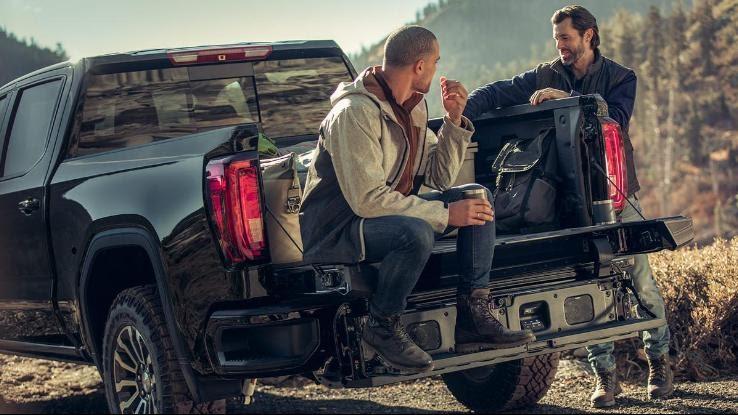 After the day's job is done, however, the tailgate truly shines. Select models come with a Kicker MultiPro Sound system, which integrates a foldout speaker system into the tailgate itself. Needless to say, if you're looking to become the most popular person at the next football tailgate, then this feature is definitely worth checking out.
How It Stacks Up Against Competitors
If you're in the market for a 2020 pickup truck, then you're also likely to come across some of the 1500's competitors such as the Chevrolet Silverado 1500. The Silverado 1500 Duramax admittedly does offer the best fuel economy of any full-size truck of 2020, achieving 23/33/27 mpg city/highway/combined. However, the 2020 GMC Sierra 1500 RWD doesn't rank far behind, with a 23/30/26 mpg range, and it has features that the Silverado doesn't, like the Six-Function MultiPro Tailgate.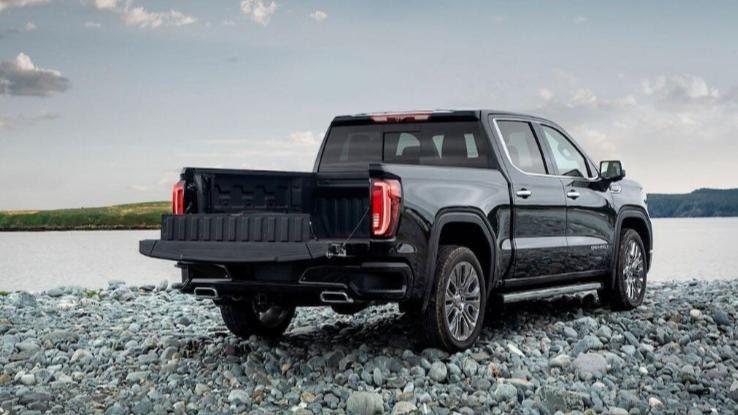 Another comparable vehicle is the 2020 Dodge Ram 1500. While the Sierra 1500 offers more engine options, the smaller number that the Ram offers are nevertheless as good. If road performance or towing capacity is your main concern, both trucks perform very similarly.
The Final Verdict
Overall, the 2020 GMC Sierra 1500 is an excellent option if you're looking for a full-sized pickup truck that blends functionality with sophistication. While comparable trucks do exist, the combination of the MultiPro Six-Function Tailgate and huge amount of cargo room alone make the Sierra 1500 stand out enough to at least be worthy of a test drive.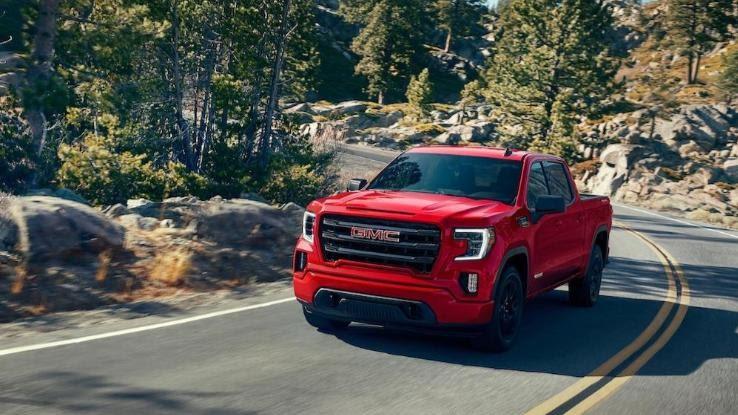 Finally, the amount of customization options has made the 2020 GMC Sierra 1500 a popular choice for a variety of drivers. Whether you're looking for a full-sized truck to use for work or extra cabin room for your family, you'll be able to tailor the Sierra 1500 to your personal needs.