What Are the Best 2020 SUVs for Seniors?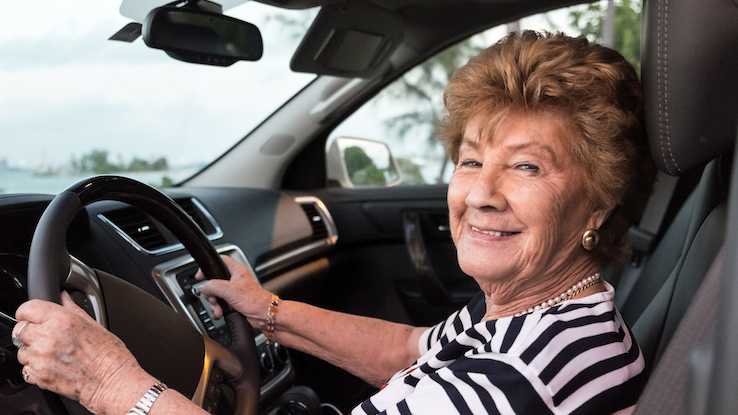 It's no secret that we change as we age, but our needs shift as well — even when it comes to the features that can benefit us most in the vehicles we drive. Comfort is an important factor of course, but safety features, ease of use when it comes to controls and infotainment centers, and even the design of the car itself — is it easy to get into and out of? — can all play a part in how well an SUV suits the needs of older adults. If you're in the market for an SUV, these 2020 models are some of the top options for seniors to consider.
2020 Hyundai Kona
Want a car with SUV styling but enough sportiness to keep some pep in your step? You might enjoy the 2020 Kona. This nimble subcompact SUV is one of the most affordable on this list, and it incorporates many of the features drivers love about larger SUVs — like all-wheel drive and ample cargo space — with the smaller footprint and agility of a more sedan-like vehicle. Because of these proportions the Kona sits lower to the ground, making it more accessible for drivers with varying mobility needs.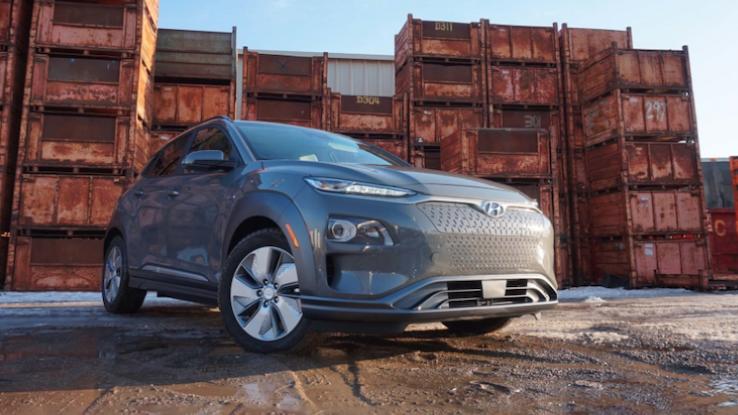 The Kona is one of the more basic models on this list, which is expected considering its affordability, but that doesn't mean it lacks features. It's available with all-wheel drive for added safety and control in various weather situations, and it also comes standard with a rear-view camera, a monitor that displays driver attention alerts, and functions like forward collision warnings and lane departure warnings.
2020 Subaru Forester
The Subaru Forester is less traditional SUV and more compact crossover, which is great for maneuverability — and also if you're not comfortable driving something that's on the larger side, which is the end of the sizing spectrum that SUVs typically fall on. According to U.S. News & World Report, the Forester "delivers a carlike ride," so it might not be too big of a departure (or too much of a learning curve) from your current sedan. Despite its sportier handling, this car won't have you feeling cramped; its doors open wide, making it easier to get into and out of, and the seating and cargo (up to 76 cubic feet worth!) areas feel spacious.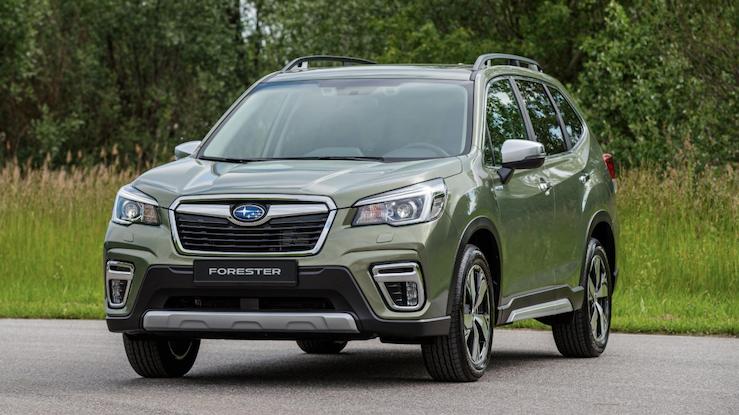 At all trim levels, the 2020 Forester is equipped with Subaru's EyeSight driver assistance system that integrates safety features like a pre-collision braking system, lane departure warnings, sway warnings, adaptive cruise control and a lane-keep assist function that can self-correct the car's steering if you start leaving a lane. The Forester's touchscreen infotainment console isn't as robust as some of the others on this list — namely, it's smaller and doesn't offer as many features — but that might be an upside if you don't want something too technical.
2020 Honda CR-V
Automaker Honda has a reputation for producing safe, reliable vehicles, and the 2020 CR-V is certainly steeped in those qualities. But its overall design also renders it an excellent choice for older drivers. Unlike many of the larger SUVs on the market, the compact CR-V is lower to the ground, which makes getting into and out of this vehicle easier for people with mobility limitations. The rear cargo area is also positioned lower and has a low liftover height for more ease in loading larger items into the car. The hands-free and remote liftgate options simplify the process of loading the car even further.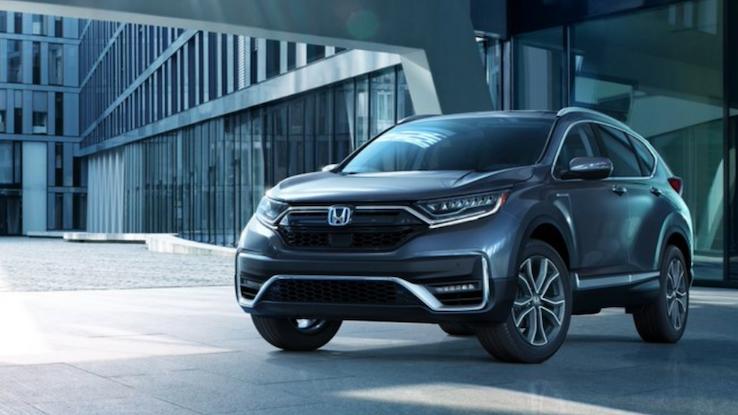 Unlike most of the other vehicles on this list, the 2020 CR-V is also available in a hybrid version that allows you to drive in all-electric mode — and save on fuel costs by getting up to 40 miles per gallon of fuel-efficient travel. All-wheel drive is also available on all trim models of the CR-V, including the hybrid configuration, and on almost all models you'll find intuitive safety features like automatic emergency braking, blind spot warnings and forward collision warnings to facilitate safer driving.
2020 Nissan Rogue
Looking for a vehicle that drives like it's compact but feels like it's spacious? The Rogue might be the car for you. This compact crossover gets almost 30 miles to a gallon but still offers 70 cubic feet of cargo space, making it a nice option if you need some added room for bringing walkers or other mobility or adaptive devices along for your rides. And, the motion-activated liftgate can certainly come in handy when you need to load any supplies and gear into the back.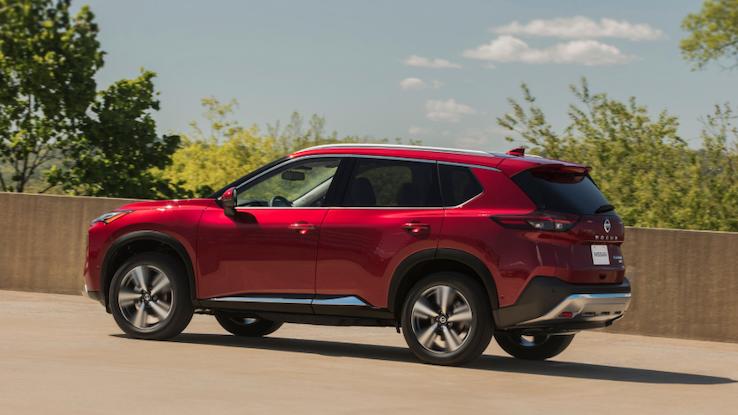 It's clear the 2020 Rogue is sporty yet spacious, but how does it stack up in terms of safety? It's feature-packed there, too, with innovative extras like the rear door alert system that reminds you to check the back seat — this could prove extra-helpful if you're traveling with a grandbaby in a car seat. The Zero Gravity front seats are safe, too; inspired by astronauts and NASA engineering, these uniquely shaped seats are meant to make you and your passenger feel weightless, placing less stress on your joints and allowing your spine to align in a neutral position. The result? Less fatigue while you're on the road and a refreshed feeling when you reach your destination.
2020 Kia Telluride
An ideal option if you frequently have the grandkids in tow, the Kia Telluride is a midsize crossover SUV that's brand new for the 2020 model year. It's a little larger than some of the other options on this list — Kia's largest offering for the U.S. market so far, and the car on this list with the highest towing capacity at 5,000 pounds — but it's comfortable and roomy with its seven seats and three rows. Plus, it offers a smooth, quiet ride. The Telluride is also an ideal option if you're looking for something that's much closer to the luxury end of the spectrum, not the sporty side; it boasts features like a 10+-inch touchscreen infotainment system and heated, ventilated leather seats in the first and second rows.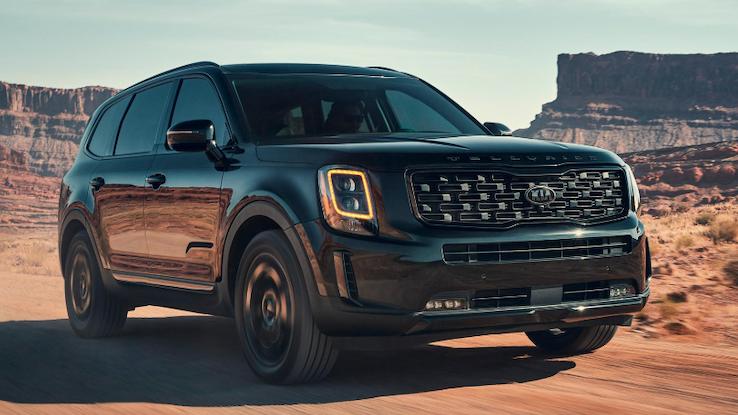 When it comes to safety, the 2020 Kia Telluride has you covered, too. It's equipped with Kia's intelligent Drive Wise system, which incorporates various types of assistive technologies to make your driving experience safer. Its blind spot view monitor, for example, shows a live-feed display of objects in the car's blind spot while you're driving, and the rear collision assistance avoidance can help the vehicle maintain a safe path if you attempt to change lanes while something is in your blind spot. The Telluride also features front collision avoidance and parking assistance, among various other safety systems, that can activate braking interventions if you're at risk of hitting something while backing up or driving forward.
2020 Hyundai Santa Fe
The Santa Fe tops U.S. News & World Report's list of the best 2020 cars for older drivers — and for good reason. This midsize SUV is affordable, and you get a lot of space for the price: There's ample room for cargo — over 71 cubic feet with the back seats folded down — and the seating areas also boast plenty of leg and head room. Even the door openings are on the larger end, but the vehicle itself doesn't feel so large that it's difficult to maneuver — although it is larger than the Kona. The Santa Fe is equipped with user-friendly tech, too, including a 7-inch color touchscreen that can pair with Apple and Android smartphones.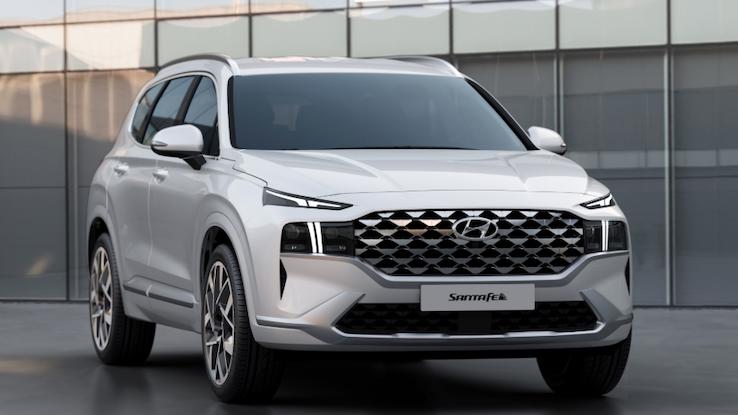 Where this compact SUV really shines, however, is with its safety features, many of which come standard on all five trim levels. Available safety options include lane-keeping assist, which warns drivers if they start veering out of bounds on the road; all-wheel drive for stability in various types of weather; and driver attention warnings, which use a system to monitor your driving patterns and trigger an alert if your driving appears inattentive or drowsy. The 2020 Santa Fe even comes with forward collision-avoidance assist on all trim levels, a feature that detects vehicles and pedestrians in your path, warns you about them and automatically applies emergency braking if you don't appear to be stopping in time.