What Are the Best Trucks to Buy Under $30,000 in 2022?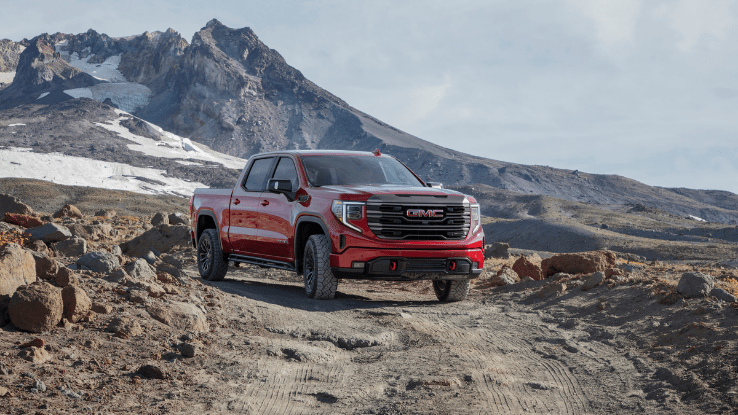 Before you buy a truck, you should know they aren't a cheap commodity. Whether you want a new or slightly used truck, you'll frequently find yourself looking for trucks worth a minimum of $30,000. But thankfully, there are still trucks available under that price point in 2022. These include a range of full-sized to compact trucks. Here are some of our favorite picks that start at under $30,000.
2022 Nissan Frontier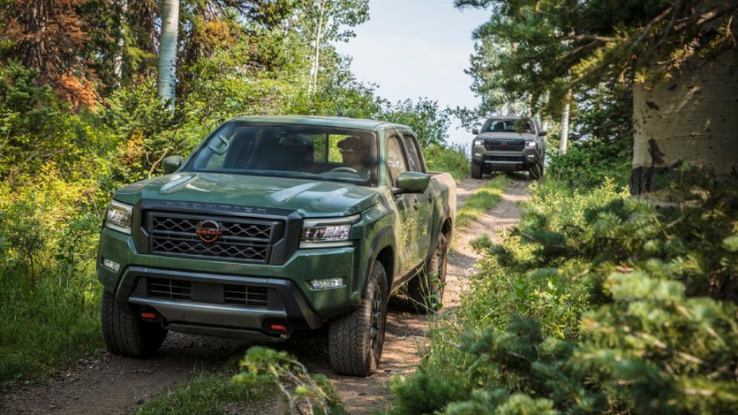 If you are looking for a powerful full-sized truck that's set at a modest price, then the 2022 Nissan Frontier is the perfect pick. This model comes in four trim levels: S, SV, Pro-X, and Pro-4X. The S trim level is the cheapest, with a manufacturer's suggested retail price (MSRP) of $27,840.
The 2022 Nissan Frontier comes with a 3.8 liters V6 engine capacity and a 310 horsepower output with 281 pound-feet of torque. Also, it facilitates sport driving mode options, and the engine is coupled with a nine-speed automatic transmission.
Like the previous Frontier model, the 2022 Frontier still maxes at only 6720 lbs of towing capacity, meaning it still fails to match up with similar competitor models like the Jeep Gladiator, Chevy Colorado, and GMC Canyon, which can tow at least 7650 pounds. However, the 2022 Nissan Frontier makes up for this with a maximum payload that has shot up from 1450 pounds to 1610 pounds. This is an increase of 160 pounds compared to the older models. The 2022 Nissan Frontier also provides extended king cab and crew-cab set-ups, which have either rear- or four-wheel drive, including five- and six-foot cargo box lengths.
2022 Toyota Tacoma
The 2022 Toyota Tacoma is not only a hardy midsize truck but also a reliable off-roading truck. Among all the other midsize trucks, it's the only one that still offers a manual transmission. However, its six-speed automatic transmission mode tends to be imbalanced and outdated compared to other trucks. The 2022 Toyota Tacoma is available in five trim levels: SR, SR5, TRD Sport, TRD Off-Road, and Limited. The trim levels with the lowest starting prices are the SR ($26,500) and the SR5 ($28,290).
The 2022 Toyota Tacoma SR and SR5 are powered by an anemic four-cylinder engine, and they have an optional V-6 engine. On the other hand, the TRD Sport, TRD Off-Road, and Limited are only powered by a V-6 engine. The V-6 engine has a decent performance compared to the underpowered four-cylinder engine. The V-6 engine has 278 horsepower with 265 pound-feet of torque, whereas the four-cylinder engine generates 159 horsepower and 180 pound-feet of torque.
With rear-wheel drive, the 2022 Toyota Tacoma tows at least 6800 pounds. It can also tow 6500 pounds in four-wheel drive. Its maximum payload capacity is 1685 pounds, which is only available in the two-wheel-drive versions that have the four-cylinder engine. Notably, the V-6 engine and a four-wheel-drive combination tend to give much lower capabilities.
2022 Ford F-150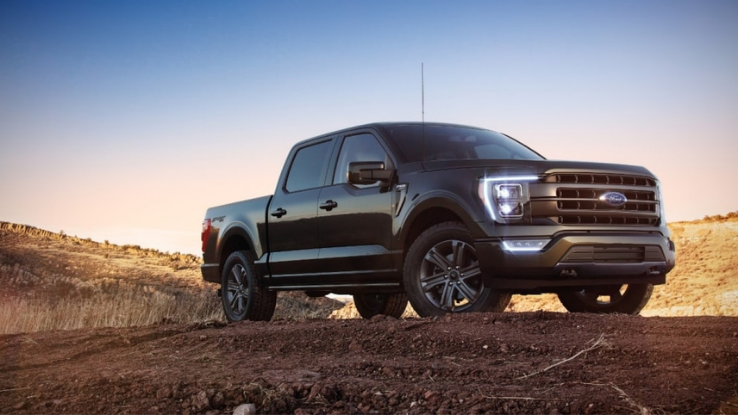 The 2022 Ford F-150 is a powerful and very reasonably priced pickup truck. It is available in six trim levels: XL, XLT, Lariat, King Ranch, Platinum, and Limited. The XL truck starts at an MSRP of $29,640. It comes with a 3.0-liter V6 engine that has an output of 290 horsepower and 265 pound-feet of torque. The truck's engine is coupled with a six-speed automatic transmission with normal tow/haul and sport driving mode options.
It also comes with a payload capacity of 2,000 lbs with a standard-range battery and a capacity of 10,000 lbs with an extended-range battery. Note that the payload capacity depends on the cab, body, powertrain, and overall configuration of the different models.
The model with the highest payload capacity is the regular cab model with a heavy-duty payload package of up to 3,325 pounds. More so, it is a rear-wheel-drive model with a 5.0-liter V-8 engine and an 8-foot bed.
2022 Ford Ranger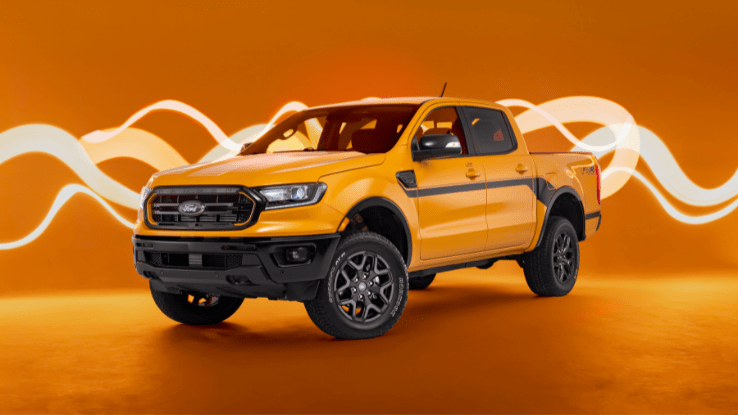 After more than 11 years, the new Ford Ranger is back with a starting MSRP of $25,285. The 2022 Ford Ranger's wheelbase has been extended by 50 millimeters. This is nearly two inches more than the older version. Therefore, it provides excellent legroom, especially for the three passengers in the back seats.
Also, a new hydro-formed structure on the front end allows for more space in the engine area, which helps to accommodate a bigger V-6 turbo diesel engine. The front wheels can also be adjusted forward to enable the truck to have traction on rough terrain.
The 2022 Ford Ranger is technologically advanced and has been revamped to include matrix LED headlights and a 360-degree camera. This truck can also be controlled remotely via a smartphone app since it supports wireless updates.
Notably, the Ranger has different versions that you can choose from; the two 4-wheel-drive structures: either one with an electronic shift-on-the-fly system or a 4×4 system, which is more sophisticated. Its engine has also undergone significant improvement from the previous generation. Given that fact, the old inline-five 2.5-liter diesel engine has been replaced with a new V6 turbo diesel engine with a 3.0-liter displacement.
2022 GMC Canyon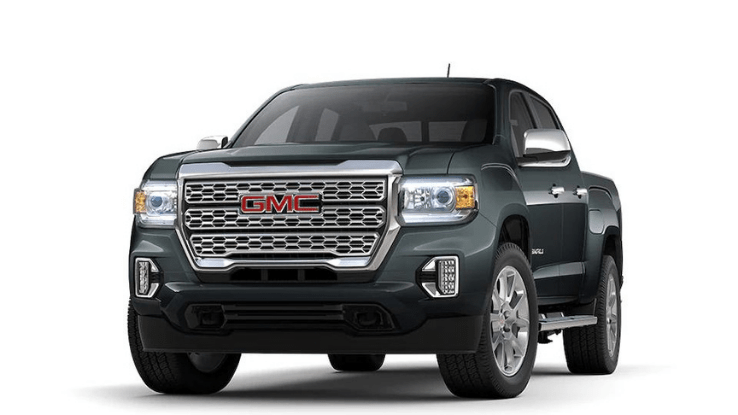 The 2022 GMC Canyon is a truck with full-size potential on a midsize frame, with a manufacturer's suggested retail price of $26,800. It has a powerfully built body-on-frame construction, with an extended potent V-6 engine and torquey diesel-engine option, which has 7700 pounds maximum tow rating. It also has a distinctive off-road suspension and is a rugged AT4 model with 31-inch tires. Therefore, if you aspire to hit some unpaved roads, this truck suits you best.
The GMC Canyon has a 2.5-liter four-cylinder base, but the higher trim models have a 3.6-liter V-6 engine with a standard 308 horsepower. The V-6 engine is paired with an eight-speed automatic transmission, and it has cylinder deactivation for fuel preservation.
Also, the Canyon's diesel four-cylinder forfeits speed to optimize towing proficiency and fuel efficiency. Despite sacrificing its speed, the Canyon model is still among the quickest midsize pickups. In addition, its four-cylinder base has a towing capacity of 3500 pounds and a payload capacity of 1599 pounds.