Is Online Grocery Shopping Safe After Coronavirus?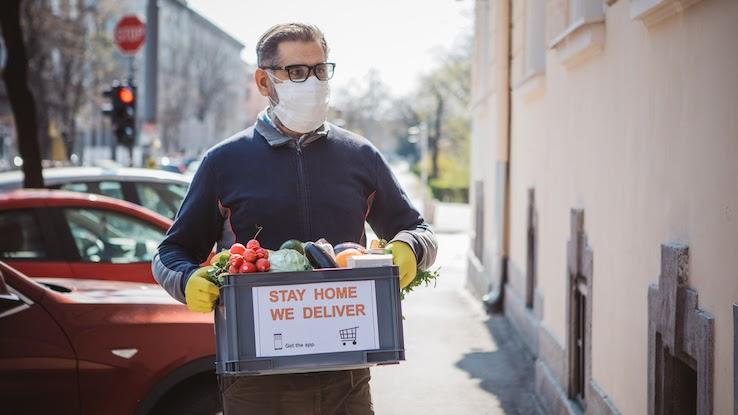 As the coronavirus pandemic began sweeping the nation in late winter and spring of 2020, many people started sheltering in place and staying out of public spaces to avoid catching the virus. For this reason, online grocery shopping saw a major boom. Before the pandemic, only about 3% of grocery shopping was completed online in the United States. After the pandemic began, that number rose to around 10% and is expected to continue to climb in the years to come.
Shopping for groceries online can be a safer option than shopping in person at the store because online ordering can limit your exposure to other people who may have the virus. The Centers for Disease Control and Prevention (CDC) even recommends that you use online services when they're available. But the level of safety possible also depends on the steps you take to follow effective precautions, even when you get your groceries delivered. Learn how grocery delivery may be safer, along with some important ways to keep yourself healthy if you choose to shop for groceries online.
The Process Is Almost Totally Contactless
Most larger grocery delivery services allow you to pay through their apps and websites. But before loading up your cart and proceeding to the online checkout, you'll want to make sure whatever service you use has a contactless payment option — most do, but it helps to check just in case. Ideally, you'll pay for your food, any service fees and the tip without using cash, but a credit or debit card. If you have questions about whether or not the delivery driver receives the full tip, contact the store or the delivery company, depending on the website or app you're using to place your order.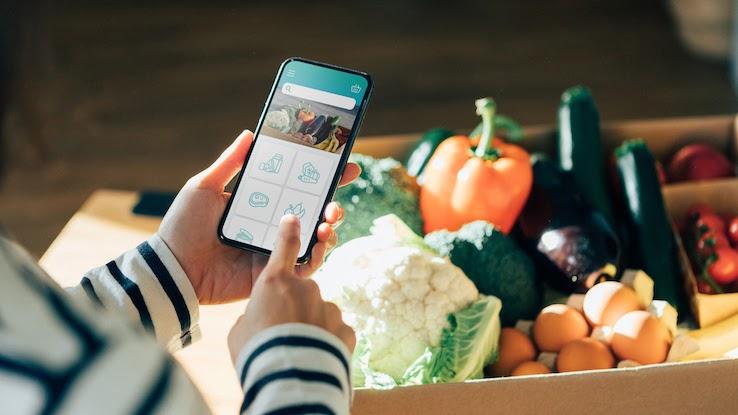 Not only should you avoid paying for your groceries in person, but you should also avoid intercepting them if you can. "Contactless" in "contactless delivery" should refer not just to the payment process but also to the delivery itself. If you can avoid chatting with or taking bags directly from a delivery person, you should do so. According to the CDC, you should "accept deliveries without in-person contact whenever possible. Ask for deliveries to be left in a safe spot outside your house (such as your front porch or lobby), with no person-to-person interaction. Otherwise, stay at least 6 feet away from the delivery person."
Most of the larger delivery services now offer a contactless delivery option, meaning you permit the delivery driver to leave your bags and boxes of food at your door or another specified location outside your home. When you place your order, there should be a spot where you can write in some instructions about where you want the delivery person to place your goods. In some cases, the delivery person may take a picture of the groceries and text it to you to let you know the groceries have arrived and show you the spot where they're located. If you're using the service's app, it may also alert you via text or a notification that your items are at their destination.
Learn to Handle Your Groceries Safely
After the delivery driver has left your home, it's your turn to handle the groceries. There's currently no evidence that the coronavirus can spread via food, but so much is still unknown about it. For this reason, it's important to practice a few extra safety precautions while putting your groceries away — and you should put refrigerated and frozen items away as as soon as possible.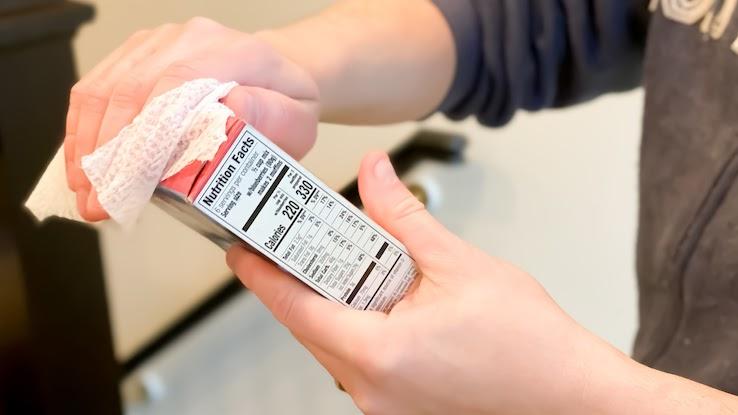 You can start by disinfecting any non-porous containers that your groceries came in, like jars, bottles and cans. Products like Lysol and Clorox wipes are good for this task. After a minute or so of letting the liquid from the wipes rest on the containers, dry the items and put them away. Avoid touching your face during this process, and disinfect any surfaces, like counters and tables, where you placed the groceries while they dried. As for produce, wash it thoroughly before eating it. Always wash your hands with soap and water for at least 20 seconds after you've put your groceries away.
Using Curbside Pickup Services
While not all stores offer delivery directly to your home, some offer curbside pickup. This allows you to stay in your vehicle while a store employee brings your groceries to your car. They may also load them up for you. If possible, avoid taking your groceries directly from the employee and have them put the products into your vehicle whenever that's an option.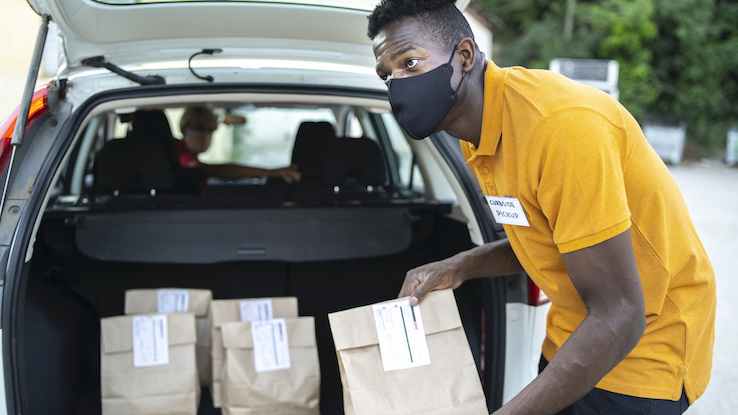 Wear a face covering when you come into close contact with a store employee and while they're loading your car. Make sure you prepay and tip via the store's app or website if possible. Once you get home, put your groceries away the same way you would if they were delivered, and wash your hands afterward.
What to Do If You Need to Shop in Person
Not everyone has access to online grocery shopping or wants to pay the extra fees. If you find that you need to go to the grocery store in person, you can protect yourself by taking a few extra steps. If you're feeling sick or are experiencing COVID-19 symptoms, you shouldn't go out. Postpone your trip. Have someone else get your groceries and bring them to your home if possible.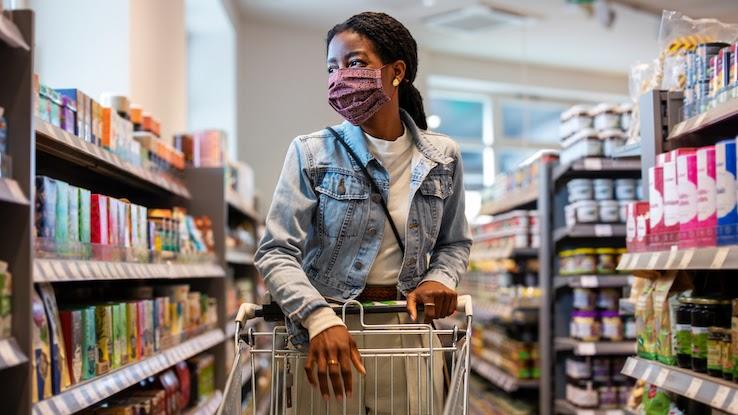 Try to do your grocery shopping in the early morning or later at night when fewer people are likely to be there. Use a disinfecting wipe to clean the handle on your grocery cart. Wear a mask that covers your mouth and nose, and avoid touching your face while you shop. You can also wear disposable gloves that you throw out after leaving the store. Stay at least 6 feet away from all other shoppers and, as soon as you get back to your vehicle, use 60% alcohol (or a higher concentration) hand sanitizer to clean your hands.
Once you've arrived home, take the same precautions to put your groceries away that you would if you'd had them delivered. Wash your hands afterward for at least 20 seconds. You may also want to use disinfectant wipes on your steering wheel, car door handle, smartphone and any other surfaces you may have touched on the way home.