What Are Some of the Best-Rated Dishwashers?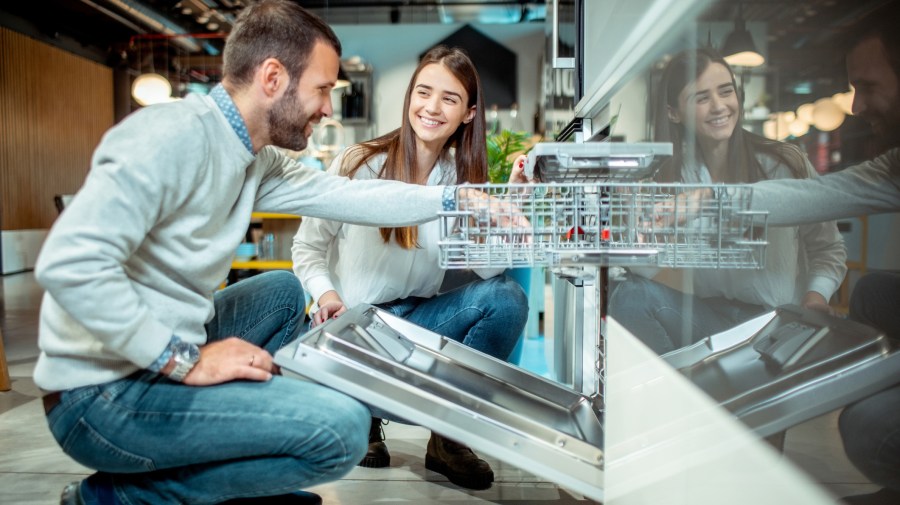 You never think about how much you rely on your dishwasher until it stops working and you're elbow-deep in hot, sudsy water doing some old-school dish scrubbing. You can certainly follow in your grandmother's footsteps and get the job done — but do you really want to? Chances are, you will quickly find yourself on the hunt for a brand new dishwashing appliance.
Dishwashers range in price from a few hundred dollars to thousands, depending on many factors. Regardless of your personal budget, the most important factor is finding a dishwasher that gets the job done the first time with a simple push of a button. Here's our take on five of the best-rated dishwasher options that are up to the challenge of getting your dishes sparkling clean.
Samsung StormWash Dishwasher
If you care about the environment along with perfectly clean dishes, the Samsung StormWash dishwasher is an eco-friendly model that's powerful enough to dissolve the dirtiest grime on dishes. A half-load option lets you save both water and energy to clean smaller loads, while the specially insulated, four-layer door offers quiet operation to cut down on noise pollution.
Even better, the StormWash doesn't skimp on all the best dishwashing features to provide these environmental boosts. The SaniRinse feature eliminates 99.99% of food bacteria, and powerful jets scour all the hardest to reach spots with ease. When the cycles are complete, the self-cleaning filter eliminates any remaining food debris.
Thermador Star-Sapphire Series Dishwasher
The Thermador Star-Sapphire Series dishwasher comes with a hefty price tag, but it has all the top-of-the-line features you could ever dream of and performs at a level you could only expect to find in a luxury dishwasher. Aside from the touchscreen controls, built-in WiFi and LED lights, this model features an unbelievably short 20-minute wash cycle among its selection of eight cycles.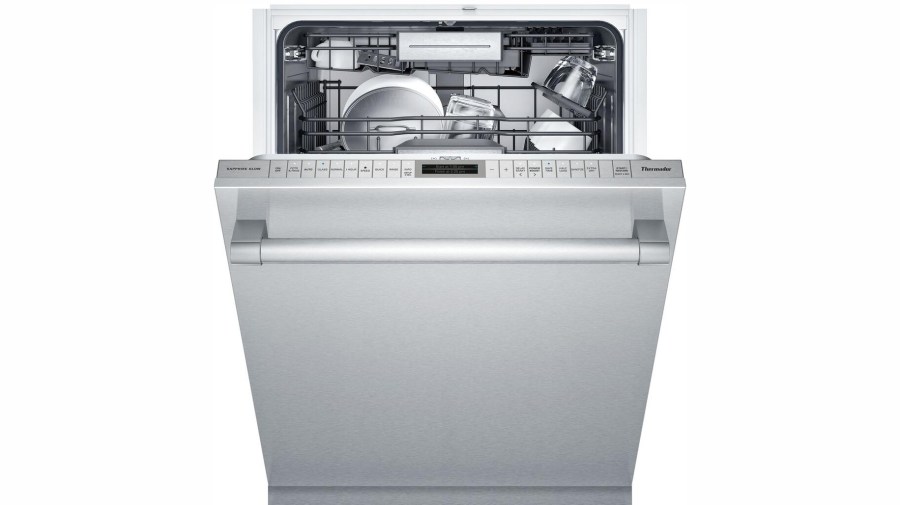 The capacity accommodates up to 15 place settings or as many as 18 wine glasses on the top and bottom racks. For particularly delicate stemware, the Entertainer's Wine Caddy holds the glasses in place, while the extra-tall-item sprinkler ensures no arms ever hit the fragile stems.
Bosch 300 Series Dishwasher
The Bosch 300 Series dishwasher is one of the highest consumer rated dishwashers available at top retailers. Featuring an innovative third rack that is perfect for cooking utensils, ramekins and measuring cups, this dishwasher offers 30% more cleaning capacity than other models. The racks themselves adjust to nine different positions to accommodate dishes of all shapes and sizes.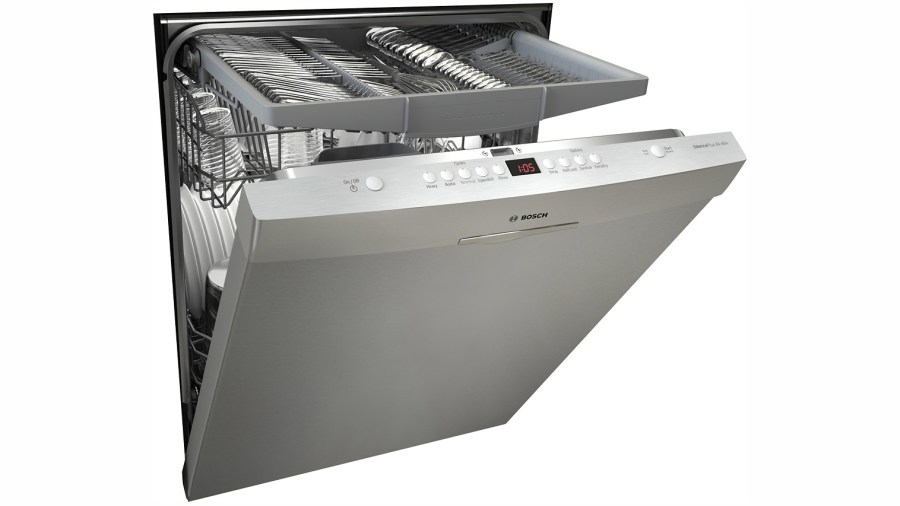 Designed with whisper quiet operation, this dishwasher has a very low 44 dBA noise level rating. It also comes equipped with Aquastop technology to ensure leaks are detected and stopped before they become a problem.
Miele Lumen EcoFlex Dishwasher
The Miele Lumen EcoFlex dishwasher is customizable, energy efficient and reliable. It comes with an impressive 10 wash cycles, including the QuickIntense wash cycle that takes dishes from dirty to dry in less than an hour. Three dish racks adjust to accommodate the different dishes you have in each unique load, and spray arms are attached to each rack for sparkling clean results.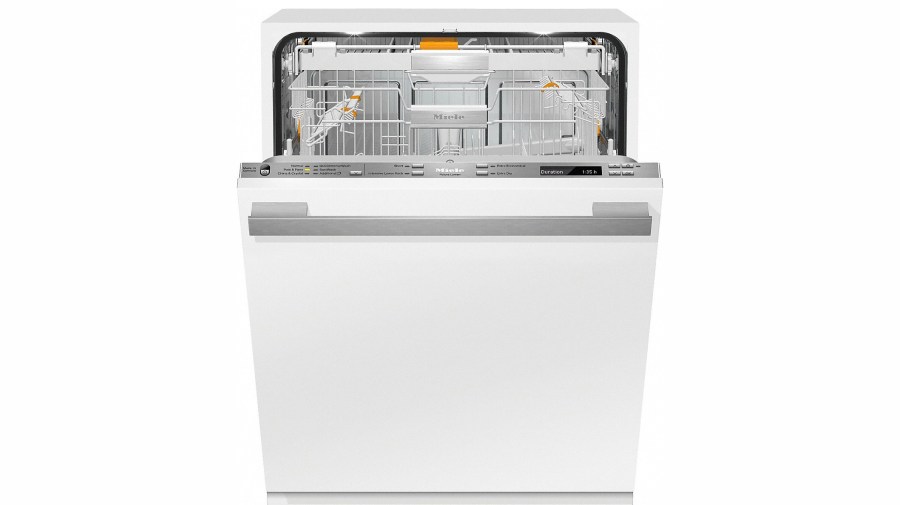 To maximize energy and water efficiency, an automatic sensor recognizes load size and adjusts water use for smaller loads. Other premium features include appliance networking, Perfect GlassCare, SensorDry and BrilliantLight LED system.
GE Stainless Steel Dishwasher (GDT665SSNSS)
The GE Stainless Steel GDT665SSNSS dishwasher received high ratings for its visual appeal, cleaning power and customizations. The matte silver stainless finish gives it an upscale look that fits well in any kitchen, and powerful bottle jets reach all the tightest nooks to deliver sparkling clean dishes, even when faced with the toughest grime.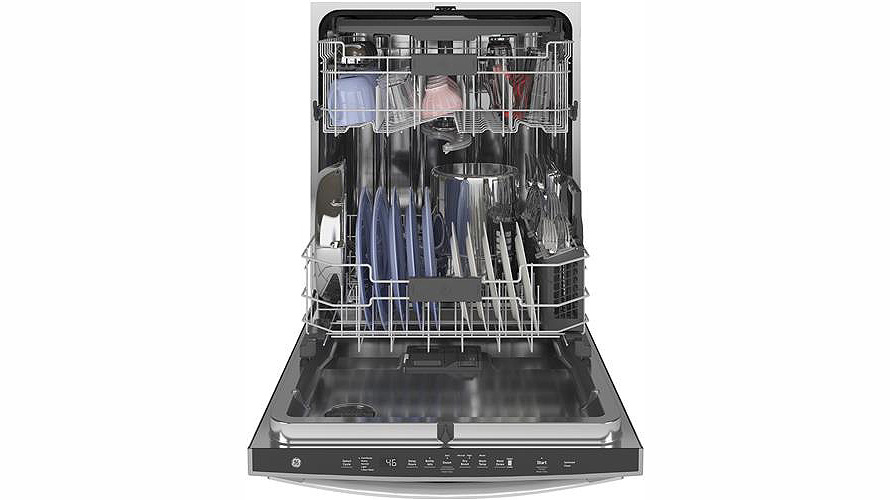 With the delay timer, you can program the dishwasher to delay the start of the cycle for up to 12 hours. If you're tired of pockets of water remaining on dishes after the dry cycle, then the Dry Boost with Fan Assist technology may be just what you need.