What Do You Need to Know to Buy a Used Golf Cart?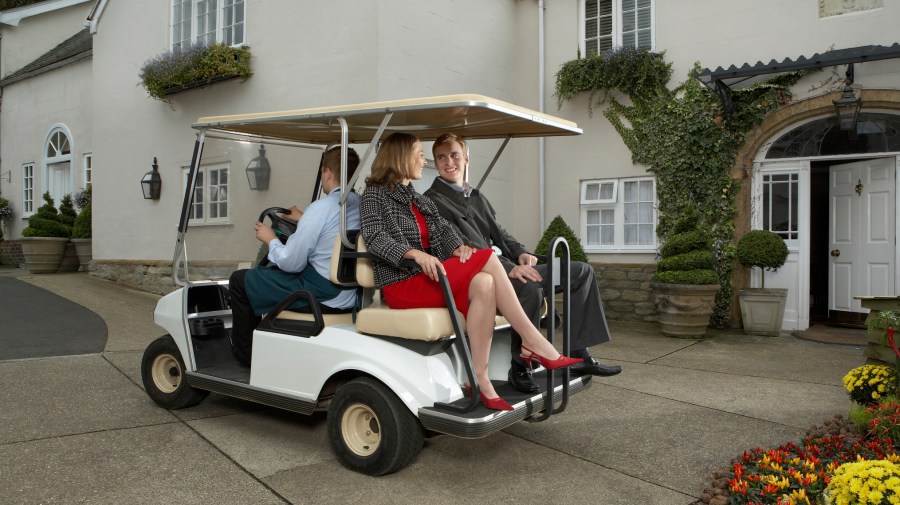 These days, golf carts are more than just vehicles to transport you and your buddies to the next distant green on the fairway. Some models comfortably seat four adults, prompting families to use them as quick short-range transportation in communities that allow residents to drive golf carts on city streets. Even in towns with restrictions, many people use them on their own property to travel from one end to another and transport lightweight items. 
In short, owning a golf cart can be both useful and fun far outside the boundaries of a golf course. If you're willing to buy a used golf cart, you can often save a great deal of money, but you need to learn what to look for and what to avoid to make sure your money is well spent. Start by considering these five factors when searching for the right used golf cart at a great price.
Decide if You Want an Electric or Gas Golf Cart
It sounds simple enough — plug it in or fill it up — but this decision isn't as easy as you might think. You need to consider the pros and cons of the two different types of golf carts before deciding. Gas-powered golf carts usually run at higher speeds than electric carts and have more power — 10 to 14 horsepower for most gas carts versus 4 to 6 horsepower for electric. Combine the greater power with a range of 100 to 180 miles for a gas cart with a 4 to 6 gallon tank, and gas carts are the clear winner when it comes to street driving. Electric carts average 15 to 25 miles per charge, depending on the battery capacity.
However, maintenance for a gas golf cart is similar to a gas-powered lawn mower or tractor and requires much more effort. An electric golf cart merely requires battery maintenance, which includes adding water periodically and keeping the battery cables clean. Electric golf carts are also much friendlier to the environment. They are generally an excellent choice for simple movement around your property and on golf courses unless the property isn't flat. With less power than gas golf carts, electric models don't perform as well on hills. Additionally, you may not realize the battery is almost dead on an electric cart, while a gas cart has a fuel gauge to ensure you aren't left stranded.
Pay Attention to the Condition of the Golf Cart
One of the most important factors to consider when buying a used vehicle — golf carts included — is the condition of the vehicle. Has the cart been fully refurbished with an engine or battery replacement, or are you buying it "as is" without any obligation on the seller's part to make repairs? If it's the latter, be sure to ask the seller pointed questions about any accidents or major mechanical problems the cart has experienced.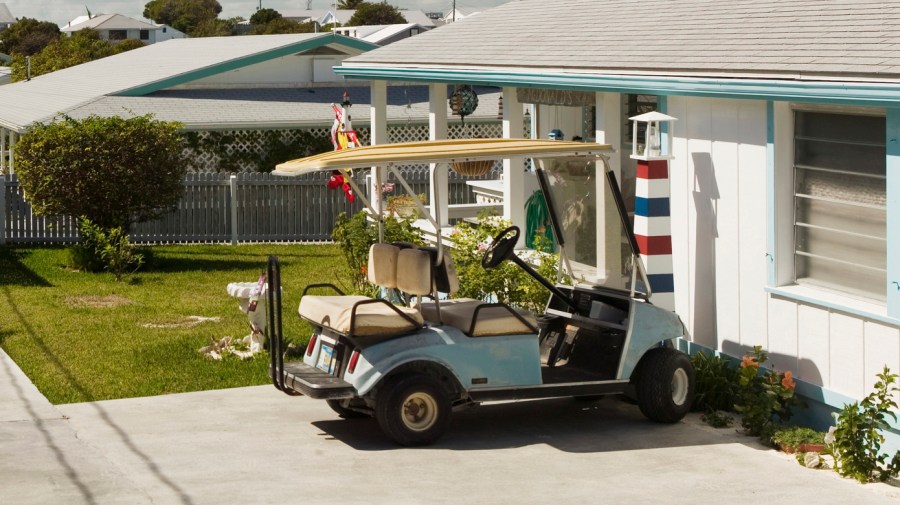 Examine the motor or the battery to check the condition, and inspect the seats, roof and tires to evaluate wear and tear. If you don't feel comfortable making these assessments yourself, take a mechanic or someone knowledgeable with you to help. If a used golf cart needs a new battery or extensive engine repairs, both of which are expensive, make sure the price you pay accounts for all the repairs you will need to make.
Consider Golf Cart Options from Different Brands
Although numerous manufacturers make golf carts, three top golf cart brands have stood the test of time: Club Car, Yamaha and EZ-GO. All three companies have a long history making and selling reputable products and represent the gold standard in golf carts. Each brand has its own vast array of accessories and customizations that could be included on used models, but other brands still have plenty to offer and shouldn't be ruled out.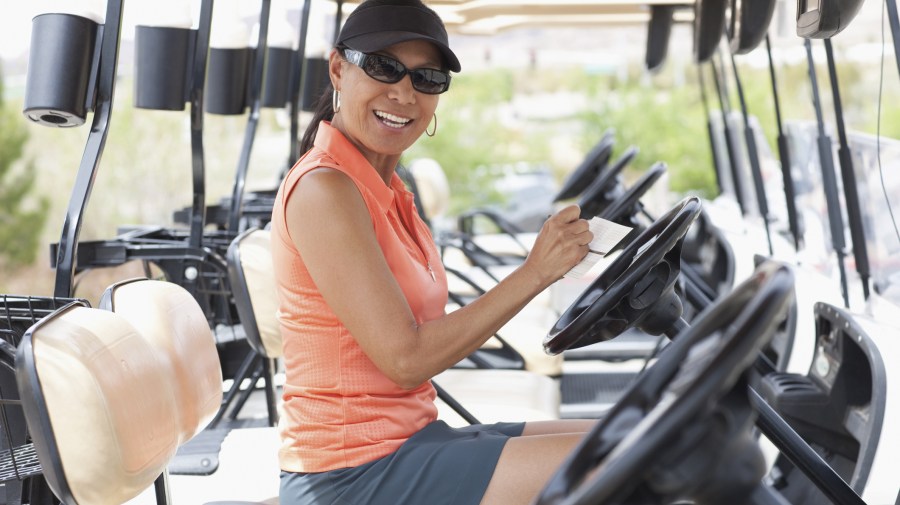 Models from manufacturers like Cushman, Polaris, Hitachi and Garia have a lot to offer and provide years of enjoyment and satisfaction. Garia, in particular, bills itself as a provider of luxury golf "cars," which means used models could be equipped with premium features at discounted prices.
Think About the Features You Really Need
Any time you shop for anything, you want to think about the features you actually need as well as those you simply want. In most cases, golf carts with more features will be more expensive, but it's always possible to run across some real steals when you're shopping on the used market. Great bargains aside, the best course of action is figure out what you need and focus your attention on finding deals on golf carts with those characteristics.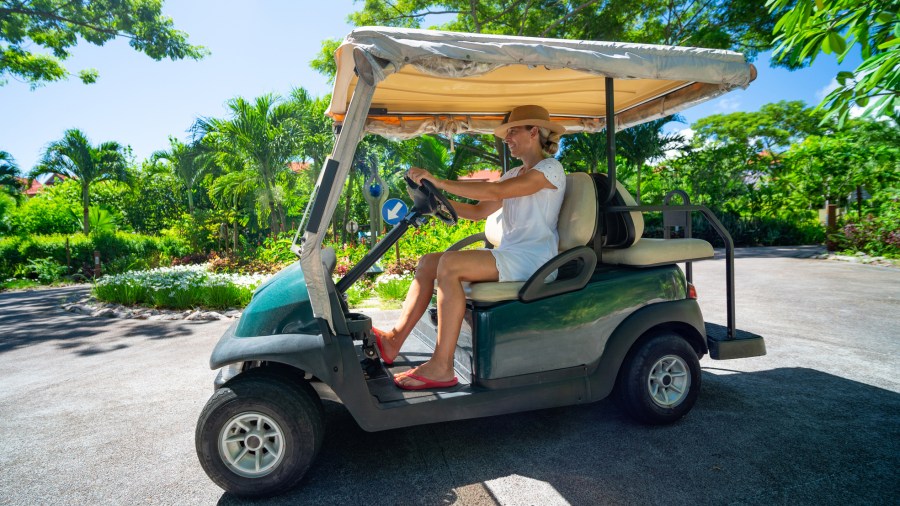 Will you be frequently driving your golf cart on rough terrain? Look for a model with larger tires for extra cushioning and shock absorption. Will you use it to drive up and down hills? Look for a gas-powered model with plenty of power. If your budget allows for it, then you can look for features and customizations that simply enhance the cart's main purpose. After all, the more the cart fits your needs and desires, the more you will enjoy it.
Weigh the Pros and Cons of Buying from Dealerships and Private Sellers
As a general rule, dealerships will attempt to sell golf carts at higher prices than private sellers, but exceptions are common. For example, dealerships often slash prices when they want to get rid of inventory quickly, while private sellers may be determined to maximize their profits on their golf cart sales. Unfortunately, popular vehicle pricing guides like Kelley Blue Book and NADA don't provide any information on values for used golf carts. That means you will need to spend some time researching dealership listings and private ads on the internet and in newspapers to determine average prices in your area.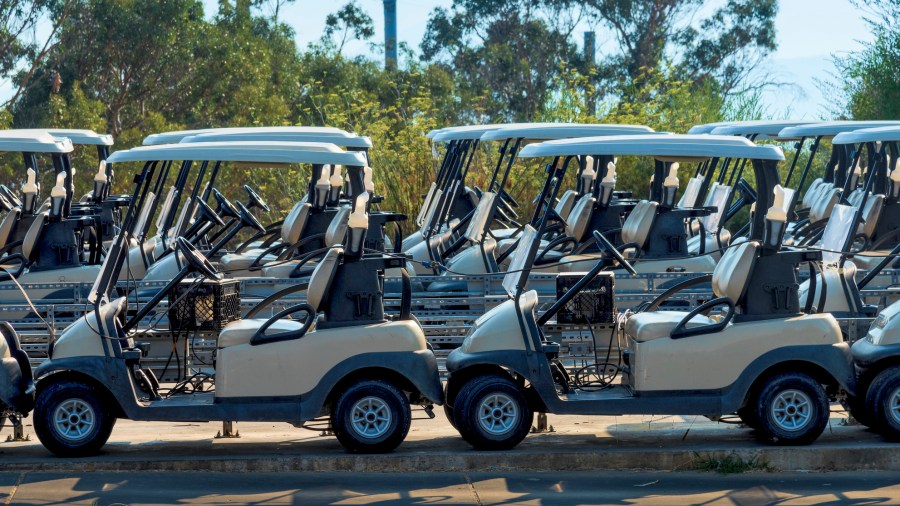 Be sure to take into account important details related to the age and condition of the golf cart. Dealers often refurbish golf carts before placing them on the sales floor, which dramatically impacts the value. They may also offer a warranty with your purchase and financing if you need it. The sales professionals can usually provide information about many different golf cart models and help you make comparisons.
If you have your eye on a particular golf cart, an individual seller may offer a lower price, but you will have to pay cash for the purchase, and won't be able to rely on financing unless you take out a private loan with your bank. The savings can be substantial, but it will also be up to you to make sure the condition of the golf cart matches the price you pay. If you don't have any mechanical knowledge of golf carts, take someone with you who does. No matter where you buy your used golf cart, be careful not to fall for claims and deals that are too good to be true.