Where Can I Find Printable Calendars Online?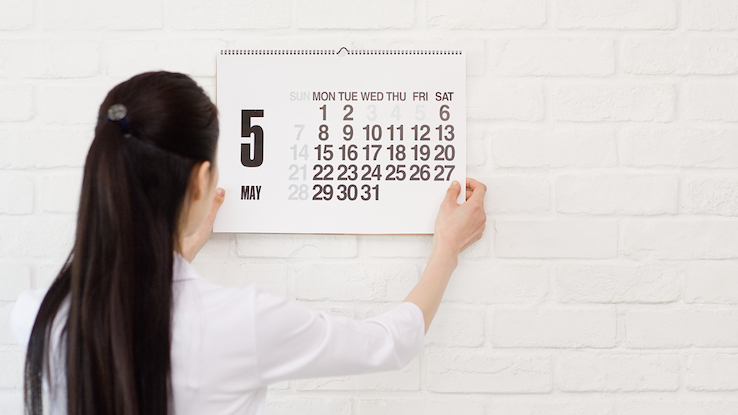 It seems like everyone is busier these days, and keeping up with everything from work deadlines to kids' sports practices to your pet's vet appointments can make things complicated — there's a lot to juggle, after all. It's true the digital age has provided us with a multitude of apps, device and gadgets that help us manage our scheduling conundrums, but sometimes we remember things best when we write them down on paper, old-school style, with physical calendars we can display. Calendar pages also come in handy for doing crafts, teaching young children and maintaining shared schedules at work and at home.
Fortunately, you don't need to head out to an office supply store and purchase a calendar. You can print one right now from home or while you're at work when you check out the myriad options available on these websites with printable calendar templates.
Waterproofpaper.com
Waterproofpaper.com is a retail site that sells all things related to — as you might guess — waterproof paper, from copier paper to notebooks and even waterproof pens and pencils. That said, the site also has a few extras for shoppers, including free printable calendars. The options here are basic, but if you're looking for a simple solution and don't want to search through pages of different designs and templates, this site is a convenient resource. You can print by the year or the month up to seven years in advance. Each calendar template is designed to fit neatly on a standard 8.5-inch by 11-inch sheet of paper.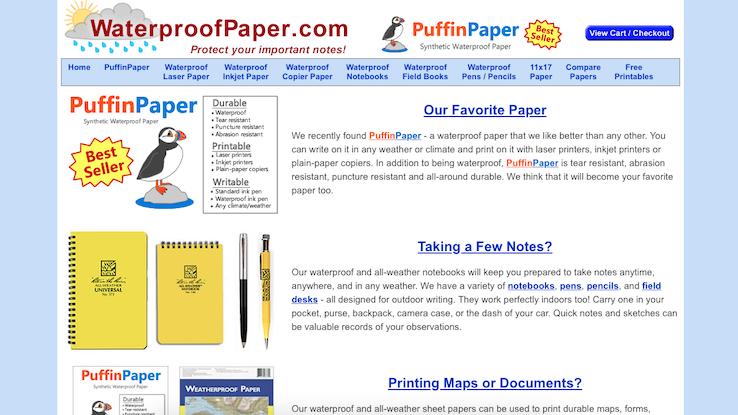 To print the calendar you like, simply choose the year or month you want, download the PDF file of the template and choose the print option on your computer. The calendars here are simple with clean lines and basic colors. They also include federal and major holidays for extra convenience.
Timeanddate.com
Timeanddate.com is a site that provides you with access to and information on time zones, world clocks, weather, moon and sun schedules, timers, calculators and even some fun apps. It also allows you to access free printable calendar templates that have a few customization options. You can give the calendar of your choice a title, choose which country you live in, pick the year and months you want to be a part of your calendar, and then select any additions you want. These include major public holidays, common observances, religious observances for various faiths, moon phases, astronomy events and international observances. After adding a few more details, you can download the calendar via a PDF file and print it.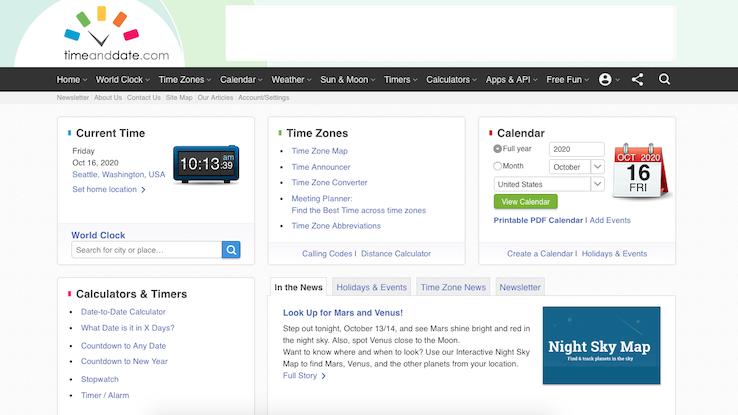 For full customization, select the site's Advanced Calendar Creator from the Calendar tab on the homepage. Once you're in the Creator, you can design a fully customized calendar in multiple languages. You'll have the ability to choose everything from local state holidays to specific formatting elements to color-coding selections for each day of the week.
Calendarlabs.com
Calendarlabs.com is another source for all things time and date, no matter what type of calendars you're looking for. Options here go beyond the basic monthly and yearly calendars and include astrology calendars, daily planners, school calendars, photo calendars, fiscal calendars, bank holiday calendars, world holiday calendars and family calendars. After downloading this site's calendars you can edit and update many of the files using Microsoft Office tools. However, you also have the option to print them directly from the site by choosing a printable format for the one you need.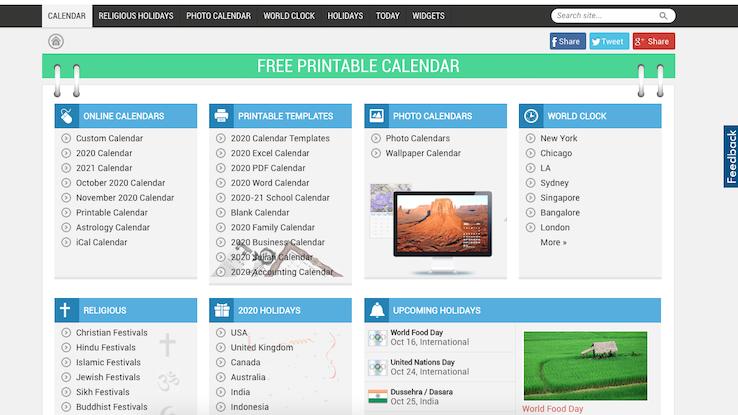 The site also offers totally blank printable calendars that are customizable for any month and year. In addition to calendars, the website offers information about religious holidays for different faiths, options to make your own photo calendar, a world clock, widgets and information about today's date in history.
Office.com
When you need any sort of office-related template, Microsoft Office software is always a great resource. You can also find printables, like free calendars, at the software's official website, Office.com. Customize monthly calendars for any time of any year by changing up start dates, fonts, colors and more. You can edit the template right in your browser, and you can share it with students, coworkers and family members so that multiple people can access and edit it before you print it. Beyond the basics, you'll find dozens of different printable calendar templates on the site, including daily planners, social media calendars, illustrated calendars and more. Many of the options here are much more colorful than the others on this list, with bright artwork and themes that can add some pizzazz to your office wall.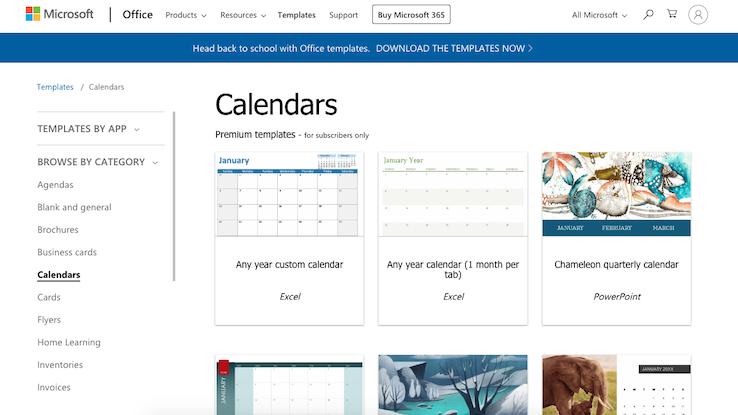 It's worth noting that you'll need to have a subscription to Microsoft Office or already have access to the program if you want to download the templates. Even if you choose to edit them in your browser, you'll need to be signed in to your Office account or to a Hotmail or Outlook email address to do so.
Teamup.com
Want a blend of digital and physical for the best of both worlds with your calendar? Teamup.com is the site for the Teamup calendar, a virtual calendar that allows groups like classrooms, offices and families to edit and work from the same online source via their computers and mobile devices. But the website also offers several free printable calendar templates. Choose from daily, three-day, weekly, bi-weekly, monthly and yearly options.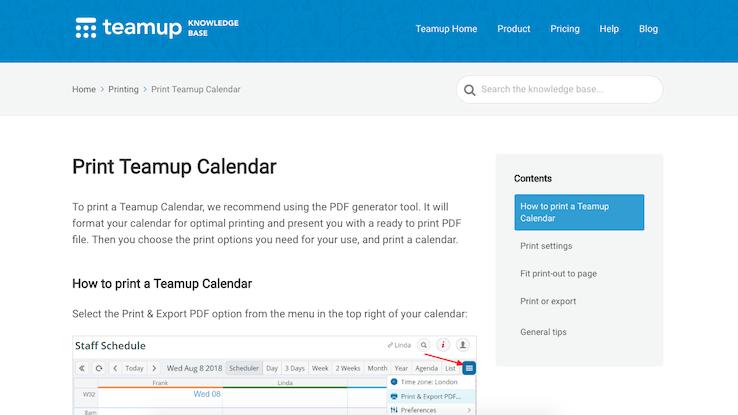 Once you select the template you want, it'll pop up in a new browser window, and you can select which dates you want to print. Once you've customized your template to your liking, you can simply select the option to print, and you'll have an easy-to-access calendar that you can keep on your desk or hang on a bulletin board or the fridge.