How Do I Choose Benjamin Moore Paint Colors?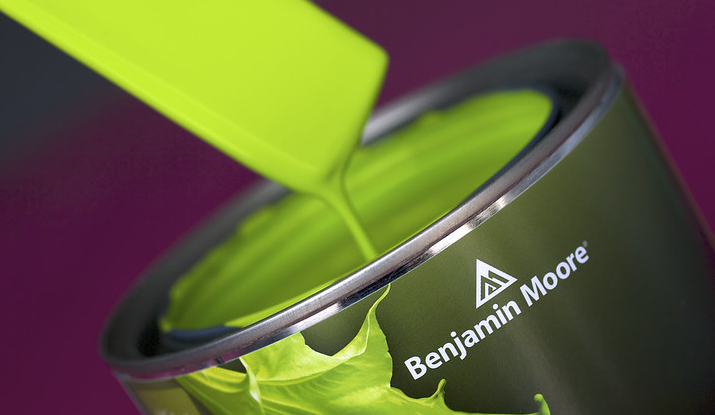 Benjamin Moore is one of the most trusted names for interior and exterior house paint. However, with so many colors to choose from, selecting just one can be difficult. Here's a guide to Benjamin Moore's residential line, including some colors designers love to use.
An Overview of Benjamin Moore Colors
Benjamin Moore's lines include from interior and exterior paints, stains, primers and specialty paints. The company's lines of interior paints, such as Aura, Regal Select and asthma-friendly Natura Waterborne Interior, lock in color for brilliant, rich and lasting coverage. Exterior paints such as Regal Select Revive for vinyl siding offer protection against weather. Specialty paints are made for everything from glazes and metallics to patio use.
Interior Colors
Every year, Benjamin Moore unveils its color trends for the next 12 months. The palette is a finely edited collection of influential hues that are hand-chosen by the company's talented color and design team. In addition to the annual trends, there are various color lines within the color system, including Color Preview, Benjamin Moore Classics, Historical Colors, the Off White Collection, Affinity Color Collection, Aura Color Stories, Williamsburg Paint Color Collection, America's Colors and Designer Classics. These lines in turn help consumers choose complementary colors.
Exterior Colors
Benjamin Moore's exterior color collections are each available in thousands of colors in various sheens for exterior use, including flat, low luster, soft gloss. The Regal Select Exterior REVIVE for Vinyl Siding is available in hundreds of colors, from soft neutrals to deeper hues.
Historic Colors
Homeowners and even interior designers and architects appreciate Benjamin Moore's vast Historical Collection of colors for both interior and exterior use. The ageless palettes are inspired by the 18th- and 19th-century North American architecture. Designers like to describe the palettes as classic and tried and true. Colors range from Shaker Beige to Knoxville Gray to Louisville Green, but always check the color fan to make sure the color is still available.
Designer Colors
Designers and architects are vocal about their preference for the neutral interior paint colors from Benjamin Moore. Paper White is warm with a touch of gray, while light pewter is neutral backdrop for any color furnishing. White Dove is a classic, versatile and warm fresh white. Linen White has ivory overtones, brightens room amd turns softest pink at sundown. Decorator's White has subtle blue tone brightens rooms, while Soft Chamois is a warm and soft yet versatile white. All Benjamin Moore paints and products can be purchased at authorized Benjamin Moore retailers.