How to Hire a Window Cleaning Service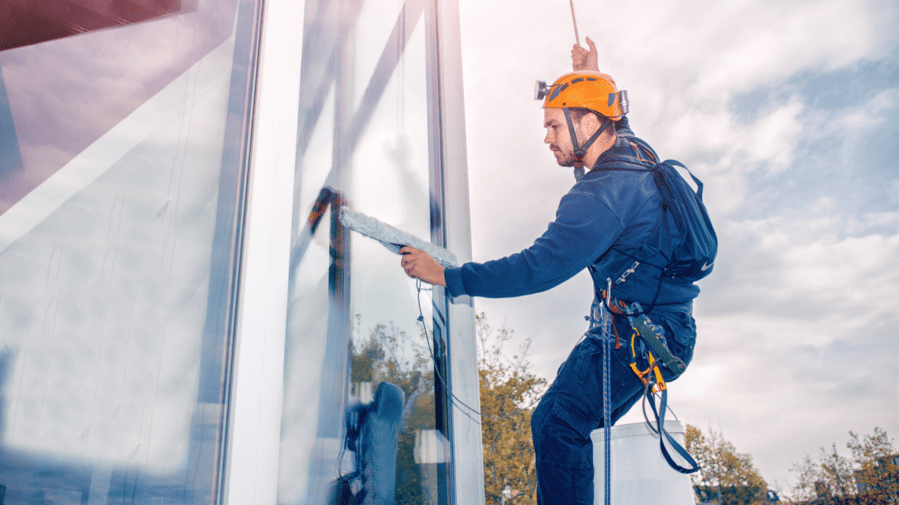 Hiring a window cleaning service has several inherent benefits. It frees up your time to do other things, plus you may be able to negotiate for the window cleaner to handle other odd jobs around your home. You also get a streak-free finish and avoid dangerous heights.
Ask If They Have Insurance
In-home window cleaning and cleaning office windows can be dangerous. Before having a window cleaner come onto your property with ladders and tools, confirm that they have insurance coverage in case of an on-the-job injury. A window washing service should prove that they are covered. If worse comes to worst, having coverage shows customers that the company is trustworthy.
Check the Window Cleaning Service's Reputation
A professional window cleaning service should have some reviews from past customers. These reviews may be posted as testimonials on a company website. They may also be posted on the Better Business Bureau website, along with the service's BBB ratings. BBB listings include the company's name and address, along with a letter grade rating. Complaints and reviews (if any) are also featured in each company's listing. Ratings may also be found on online review sites where customers go to review services they like, or to share bad experiences.
Ask About Add-on Services
If you need extra services done beyond window cleanings, such as washing window trim or mini-blinds, ask if those things are included with the price. Be prepared to negotiate a price on top of the cost of washing windows if the extras aren't included and you need them done. If a ladder is required to reach the window trim and blinds, having the service do it for you could be a safety bonus for you.
Ask About Special Equipment That's Required
Window cleaning equipment involves more than a bucket, sponge, and squeegee (for most windows). If you have second-story windows (or higher) and the cleaner needs ladders or scaffolding to safely reach them, you may want to confirm that the service has them. If you have tinted windows or stained glass windows, you may also want to confirm that the service has experience cleaning them because they are easily damaged by improper cleaning, according to Service Master Cleaning.
Ask If the Service Cleans the Screens
In addition to cleaning the glass, ask if the service cleans screens as part of the quoted price for window cleaning. Also, confirm what process the service uses to clean the screens. For example, if screens are only lightly soiled and located inside, it may be possible to clean them by wiping them with a soft cloth. However, if screens are deeply soiled and on the outside of the glass, it may be necessary for the service to use a special cleaning solution and soft-bristled scrub brush to clean them. If that's the case, expect it to cost a bit more because extra labor means the job will take longer, and labor time is typically calculated as part of a job's cost.